We headed out early on an overcast Georgia morning to go see another of our National Historic Sites. We were planning about an hour's drive to Plains, GA, home of President, Jimmy Carter to visit his museum and childhood homestead. Passing by cotton fields and pecan groves along HWY 90 we spied another Historical Site called Andersonville National Historical Site. Being easily distracted, we took a quick left and entered the park just to check it out quickly before continuing on to our intended destination. Three hours later, we would come back out, silent and spent.
Established in 1970, Andersonville National Historic Site has three main features; the National Prisoner of War Museum, which also serves as a visitor center; the Camp Sumter Prison Site; and Andersonville National Cemetery. It is maintained by our National Park Service.
We began our visit through this entry, admittedly a bit nervous about what we might see. From the first step in, this place set a somber and respectful tone.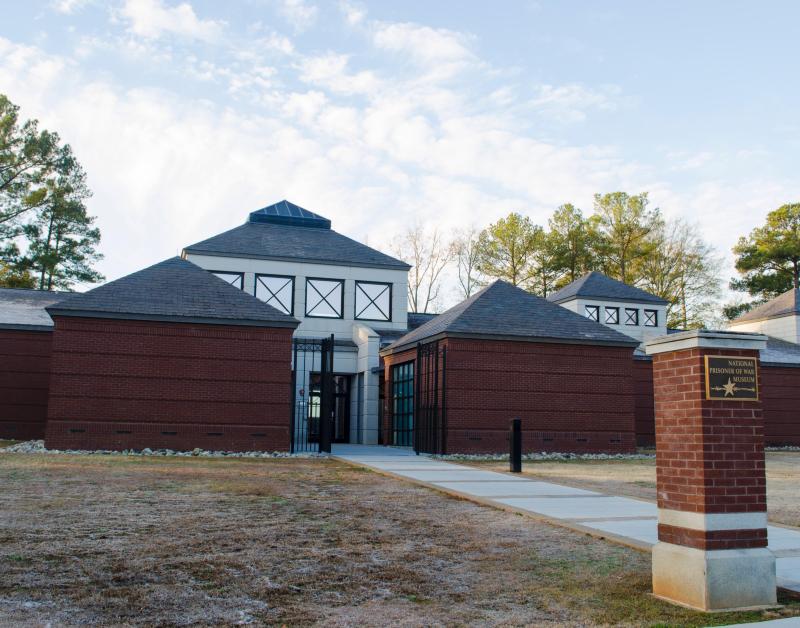 The Museum focuses on the POW experience across time and not solely on the Civil War experience. It clarifies, through educational exhibits who exactly is considered a POW and takes visitors through the ages with artifacts, photos and interactive exhibits that are sometimes really hard to experience………..especially the two films. Deep questions come to mind; questions we don't really want to grapple with. Some of it is just too close to home. I have embedded some of the questions that came to my mind in this blog. I want to go back and think about it some more after some time has passed. Perhaps you will give these questions some thought too? Perhaps peace can start with a state of mind?
QUESTION: Does the concept of a just war exist?
QUESTION: What joy is there in winning a war when so much loss and pain is associated with it?
Bridging the museum and the grounds is a moving courtyard commemorating all prisoners of war. Entitled "The Price of Freedom Fully Paid", this memorial also captures a portion of the tributary of Sweetwater Creek that flowed through the grounds as the only water source. Today, it runs crystal clear, unlike the muddy trickle that served so many souls in the fourteen months when Americans imprisoned Americans.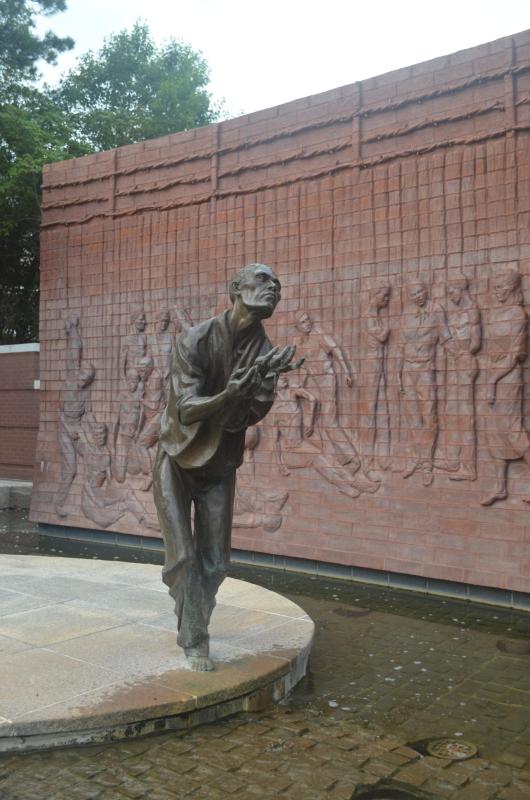 QUESTION: After every major disastrous war, humans vow to never let it happen again, yet that event comes to pass again eventually. Why is that?
The prison site itself was profound. We visited on a comfortably cool fall Georgia day, but it was easy to imagine the site in the heat of summer or the bone cold of a snowy winter. Andersonville was hastily built to relieve crowding in Richmond prisons and to relocate Union prisoners away from the battlefront. Camp Sumter, commonly known as Andersonville was not even finished or supplied when the first prisoners arrived in February 1864. Essentially no more than a giant pen intended to hold 10,00 men, the 16 1/2-acre pen had a 15-foot-high stockade wall and two gates. Nineteen feet inside the stockade was the "deadline" marked by a simple post and rail fence. Guards stationed in sentry boxes shot anyone who crossed this line. White posts still stand showing this line and walking along it, I imagined the thousands of souls who stood here suffering and, of course, those who perished here. I felt my hiking boots rooted to the footsteps of men in unimaginable circumstances. I could walk away from here and go home. They could not.
Conditions at Andersonville in its 14 long months of operation were among the very worst in the history of war. The camp was covered with vermin, there was no clean water supply and flies and maggots tortured the men. The surface was swampy mud. Here, a prisoner of war was more likely to die than a soldier in combat. The overcrowding, short food supplies and inadequate shelter allowed disease to run rampant.
QUESTION: Why do prisoners of war and the civilian citizens have to face the consequences of their nation's decisions?
Exactly how many prisoners died is not known. Surviving records suggest some 30,000 or 15 percent of Union prisoners and about 26,000 or 12 percent of Confederate prisoners died. Some states have erected monuments to commemorate those who died from their states. There are monuments that honor the contributions of nurses also.
After touring the museum and grounds, visitors return to their cars and drive over to the cemetery. Anderson National cemetary was established July 26, 1865 as the permanent resting place of honor for deceased veterans. The first interments were soldiers who died in the prison. Burials continue today for veterans and their spouses who chose this place as their final resting site.
The NPS brochures and films tell an interesting story of a 19-year-old named Dorence Atwater who was with the  2nd New York Cavalry. He was captured in July of 1863 and spent eight months in Richmond, VA prisons before arriving by rail at Andersonville. In June of 1864 he was detailed to work in the hospital where he recorded the names and grave locations of the deceased. He secretly copied this list and smuggled it out when he was released. He later worked with Clara Barton to mark the graves of the dead . His death register enabled many families to locate their loved ones and thanks to his work, over 95 percent of the graves were identified.
One final question: How long will we continue to bury veterans who perish in wars in this cemetery?