Today is April 22, 2018 and the drive was extraordinary. It was a classic Sunday drive along US Route 1 in Georgia. We left camp at Laura Walker State Park early, before the other campers arose and headed out to our destination of Big Hart Campground in Thomson, Ga. Big Hart is an Army Corps facility, so we were excited to visit this park. Traveling friends have highly recommended it as a beautiful well-maintained campground on a nice lake.
Driving up US Route 1, we had the road to ourselves for hours. We passed very few cars and fewer big trucks, so it was a relaxing scenic Sunday ride. We actually had to stop and check our eyes because we thought we saw grass growing up out of the cracks in the road along one section of the highway. It seems that this smooth and straight highway doesn't get a lot of the really hard traffic because there was indeed opportunistic clumps of grass peeking through the crack right down the middle of the road!
I imagined my Grandparents driving along this very same route nearly 60 years ago. They traveled from New Hampshire to St. Petersburg Florida each winter for many years to be with my Aunt Lorena. I wondered if their eyes rested on the same Georgia landscape as mine did today. I wondered which of the motels or cottages they might have stopped at. They sent postcards from motels along the way and I eargerly awaited word from them about where they were. Some of these old motels and cabins are still standing, although barely today.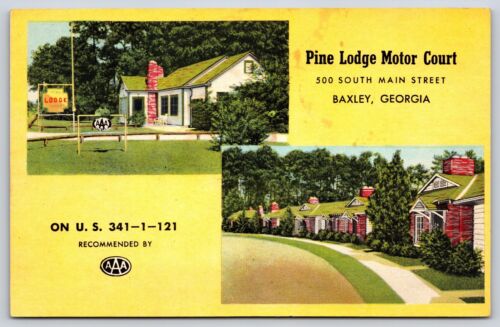 Along with the remains of motels and cabins, we saw many relics of old farmsteads  along the side of the road, suggesting that there are stories to be told about the families who raised cotton and corn in this area. Right now it is cabbage season and thousands of rows were all planted and ripening up. Last year's cotton fields are yet to be planted and stand brown, dry and ready to be tilled for this years crop. We passed through Lyons, Vidalia and a really small town called Santa Claus, Ga. I had to send a Facebook shout out to our friend, Ernie Tedrow who is a member of the Florida Real Bearded Santas. I got an authentic, "Ho Ho Ho" back in return. If you are curious to know more about real bearded Santas (and you know you are) , follow this link. Ernie is featured in the story:
https://www.huffingtonpost.com/entry/off-season-santas-photos-mary-beth-koeth_us_578693e4e4b08608d332b350
Siri is a wonderful driving companion and we frequently use the Apple phone to ask questions about what we are seeing. One stretch of road was called the L.C. Shot Strange Highway. We just had to goggle that one and see what the back story was. It seems that L.C., commonly know as Shot,  was a farmer who went into local law enforcement and then later corrections. I couldn't find out why he was nicknamed Shot, but one can only speculate. It seems he was a huge advocate for improvements to the highway we were traveling today. There may have been a bit of self-interest involved, but for today, we will just appreciate this nice road we have to travel.
We also asked Siri to explain what all of the white gourds hanging from poles and wires are in this area. She informed us that these are bird houses for Purple Martins and are placed strategically to attract this species of bird so that they can devour insects. Evidently, Purple Martins enjoy eating huge quantities of winged insects. They love to eat mosquitoes, beetles, flies, dragonflies and moths making them a farmers friend.
There are thousands of these gourd shaped houses along the way in people's yards and also in the fields. It makes perfect sense to use a natural solution and we wouldn't have know this tidbit. Thanks, Siri!

Heading back North with the temperature dropping with each mile we drive, I am getting into that New England frame of mind. We look forward to seeing the Ranger team at West Hill Dam again as well as getting caught up with all of our regular visitors to the park both human and canine. We've missed family and friends from the area and it will be so good to see them again. We miss the openness and the friendliness of our small town New England roots where four-way stops mean someone will kindly wave you on if you have Florida plates. Maybe they are just practicing caution and self-defense based on our Florida plates, but we chose to think they are being nice.
We have kept a New Hampshire 603 area code on our phone out of sheer convenience or some might say laziness. This means we occasionally get wrong numbers from people who live in New Hampshire. These are seldom short conversations. I don't have it in me to just say, "Wrong number." and then hang up. That's just not New England friendly. Besides, it's a small state and I probably know them or their neighbor or brother or aunt or someone close. Recently I spoke with a wrong number lady from Lisbon whose ride for her dialysis appointment was running late. She called to tell her sister-in-law that she was all plowed out and ready to be picked up, but evidently telling me was just as good. After chatting for a while, we parted by agreeing that it had been a hard winter in New Hampshire and Spring would be wicked welcome. Not that I would know, living in Florida, but I didn't have breathing room in the conversation to share that. She's clearly been cooped up for some time and was looking forward to getting out of the house for a few hours of dialysis.
Driving along today, Arnie and I were thinking about some of the quirks that we love about being back up north for the summer and how we've grown fond of living in Massachusetts for part of the year. I have some deep family history in the Milford area and running through my mind is the connection between some of the people we've met up there and some of my own quirky family. My Father was an outgoing guy and helpful to all in need. I couldn't help but think of him in my pondering today. He was the kind of guy who always would stop what he was doing and lend a hand to whoever needed it. He had a big personality and was known by many of his friends as Big Ed.
Dad would have loved the local hardware store we go to near our summer campsite. It reminds me of the old Grossman's in Plymouth NH. Last summer, during my visits to this store in Uxbridge, I noticed that the local residents who shopped at Koopmans for their hardware needs were very outgoing and helpful too. Unlike Florida where you couldn't get help in Home Depot if you fainted, Koopmans is almost a social club in comparison. In fact, it was seldom that I stopped in there but what somebody spoke up and offered me assistance whether they worked there or not. I think that's a northern thing that is very endearing. When folks see a perplexed look on your face in the hardware store they are compelled to stop and help. Sometimes I was just trying to decide between Elmers and Gorilla glue, but inevitably someone would stop and weigh in on my decision with a story about their Uncle who glued his fingers to the handle of the wood axe by mistake with Gorilla glue. I like to benefit from the wisdom of others and I sure don't want to glue my fingers to a wood axe. Being forewarned is a good thing.
Above is Grossmans in Plymouth NH and below is Koopmans in Uxbridge, Ma

My Yankee ponderings on our beautiful Southern drive this morning made me think of my Mother too. I don't look forward to being on high alert lookout for deer while driving in Massachusetts this summer. It's something I give no thought to in Florida and my well honed antler instinct has faded away over the years. My eyes no longer flit back and forth when driving a back road at dusk. I have to remind myself that I know many folks who have acquired the title of Deerslayer unexpectedly on those windy back roads in New England. My own Mother has bragging rights for a bear that she hit last summer while out for groceries. I would have been in hysterics, but she called Arnie to tell him she had "a little excitement". New Englanders are stoic and my Mother took the prize on that one!
Arnie and I have lived all over the place and our inherent New England accents have sort of worn off over the years, homogenized by listening to many languages and accents and living multiculturally. But it is a strange fact that as soon as we cross the Mass line, the New England accent kicks right back in and we settle into the vernacular. So it's back to potholes, chilly nights, campfires, flannel shirts, chowda, an evening dip in the swimming hole and those loveable funny accents. We will pack away the letter r for the summer and it will all be wicked fun. Massachusetts here we come!